Product Description
Product Overviews:

Automotive Engine Modified Complete Wiring Harnesses


This custom cable assembly desgined with 6pin deutsch connector, the empty pin sealed with dummy plug for waterproofing fuction. Also the connector covered with tube for wire braching and protection. All the complete electrical wiring harness processed following IPC620 standard.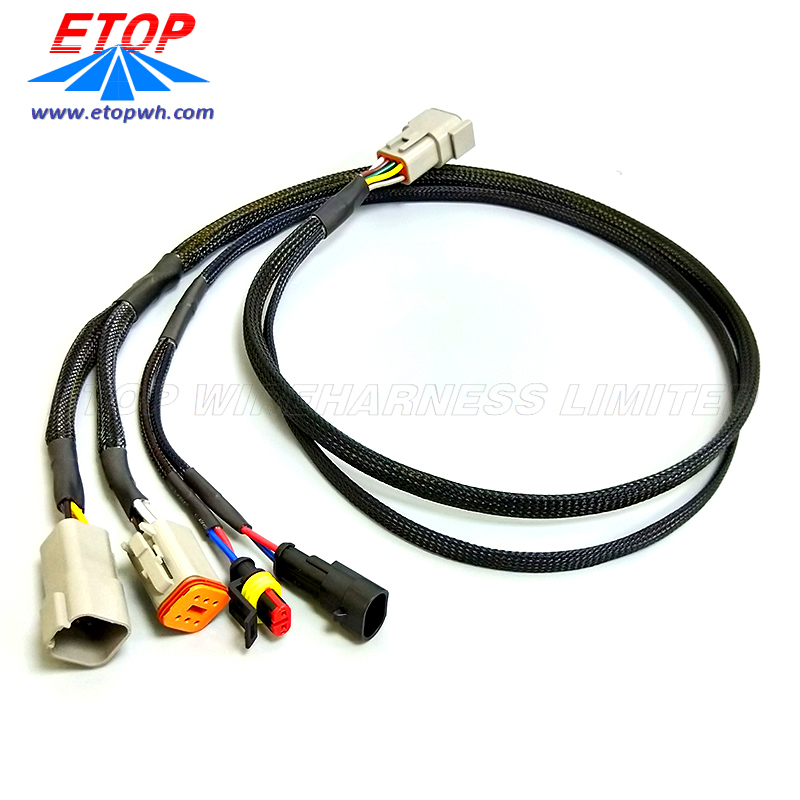 01 This auto cable harnesses used for automobile. This type of connector is original one by waterproof type with seal.The connector using from Original Deutsch Part DT04-6S or DT04-6P, it is 6-Way Receptacle Assembly. Complete with wedgelock and choice of pins. Mates with all DT06-6S Plugs. Rated at 13 amps continuous and accommodates wire sizes 12-20 AWG.Deutsch DT housings are also available in 2, 3, 4, 6, 8, and 12 pin counts and use size 16 DEUTSCH contacts, each with 13-amp continuous capacity. The housings feature an integrated latch for mating.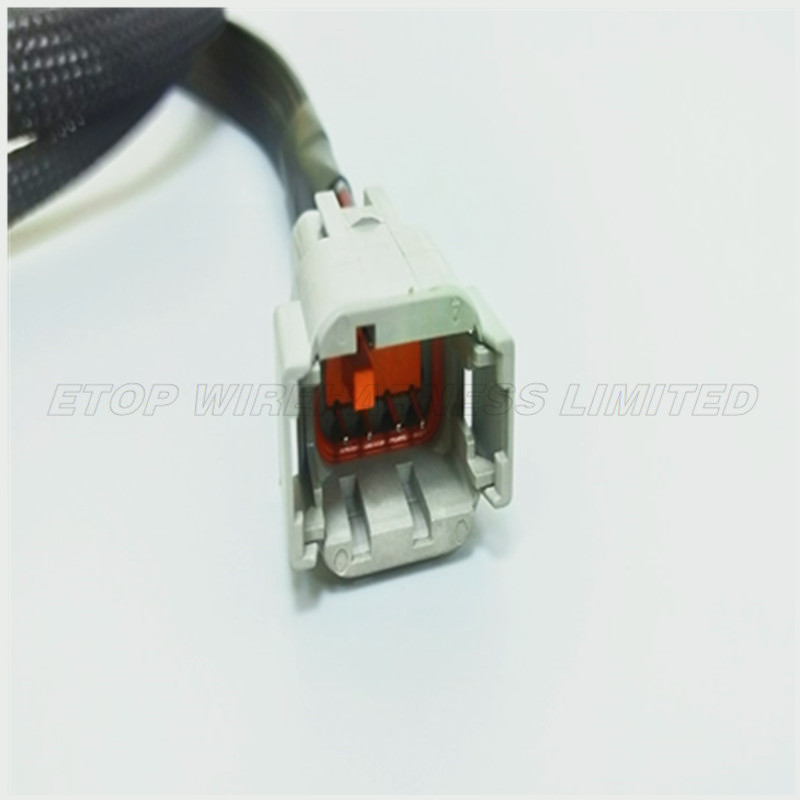 02 The DEUTSCH DT series general purpose connectors will provide reliability and performance on the engine or transmission, under the hood, on the chassis, or in the cab.Harsh Environment Products are built to withstand dirt, moisture, salt, and vibration encountered in harsh environments.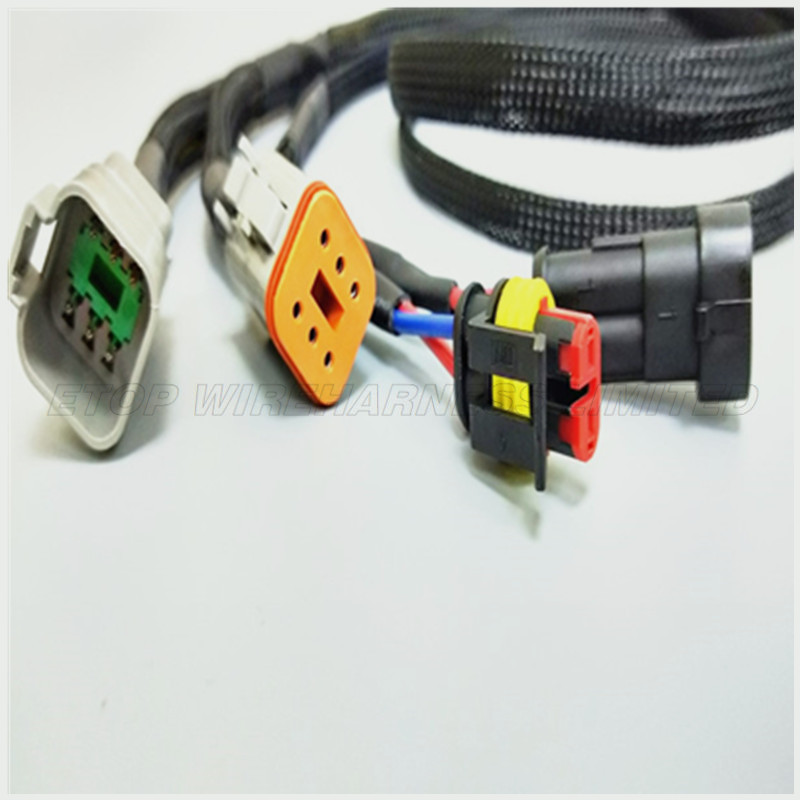 DEUTSCH DT series of environmentally-sealed connectors are designed specifically for harsh environment cable to cable applications. Thermoplastic (-55°C to +125°C rated) housings and silicone seals are used to allow the connector to withstand conditions of extreme temperature and moisture. The connector may be employed with either solid-copper crimp type contacts for critical circuits or budget-minded stamped and formed contacts.
03 Our automotive wiring harness also introduced AMP Superseal 1.5 series connectors 282080-1,Housing for female terminals, 2 Positions, 6mm [0.236in] Centerline, Sealable, in order to meet the constantly increasing needs and requirements in safety and reliability of the electrical connection field. These connectors fulfill all the requirements prescribed by the various automotive and industrial standards.
The AMP SUPERSEAL 1.5 Series connectors are watertight and exceed the requirements prescribed by the IEC 529 and DIN 40050 I.P. 6.7 standards regarding waterproofness.

They are completely interchangeable and can be connected with existing components and with the devices currently used in the automotive industry (sensors, oil pressure senders, water temperature monitoring, etc.).

The Advantages:
Compact system minimizes packaging requirements
Sealing reliability proven under harsh conditions
Designed for ease of manual harness assembly, engine mounting and under hood environments
Suitable for automotive industry, engine, truck, bus, or off-road vehicles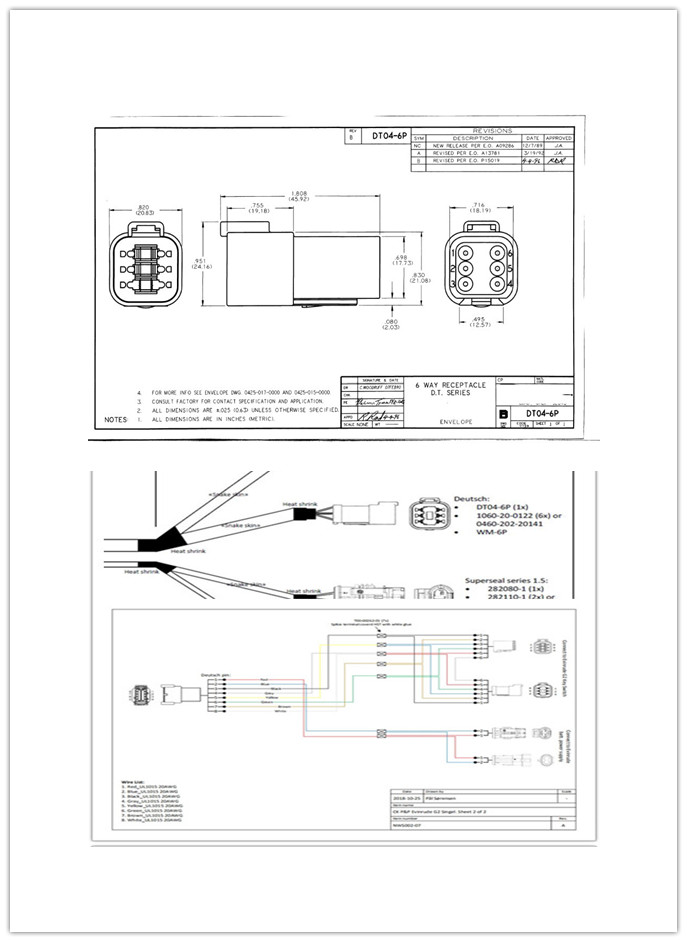 Application:

Etop Wireharness Limited provide wire harness manufacturing services for cable harnesses and built-to-print cables used in many industries, such as computer, game machine, POS machine, ATM , audio/video, electro-mechanical, data communications, telecommunications, medical, etc. We offers products that work just as hard as the vehicles in which they are installed. ECUs, joysticks, fuel-efficient engines, LED lights, and CAN systems are standard equipment with a need to protect sensitive electrical systems from vibration, moisture, dust, dirt, salt, and airborne particles. Our automotive wiring harness assembly provides environmentally sealed connectors are designed to withstand the harshest environmental conditions and to keep vehicles moving forward. This portfolio of heavy duty sensors helps vehicles operate safer, cleaner, and smarter. Applications range from heavy-duty trucks to construction equipment, mining vehicles to fire trucks, as well as boats, motorcycles, and tractors.